Focus on MiSight® Contact Lenses
Learn more about MiSight® Contact Lenses for Myopia Management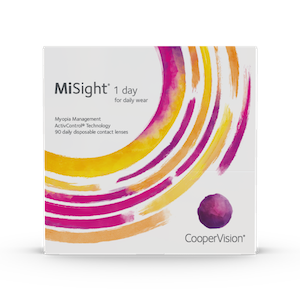 As certified providers, Focus on Eyecare is happy to provide our patients with CooperVision's MiSight® 1 day contact lenses. MiSight® is the first and only contact lens approved by the FDA to slow myopia progression in children, aged 8-12 at the initiation of treatment.1
The correlation between increasing myopia and potentially vision-threatening complications later in life is well established and is a growing concern for both eye care practitioners and parents worldwide.2 Here in the United States, the rate of myopia occurrence has increased from 25% to 42% over the last two generations.3 This is due to a combination of genetic and lifestyle factors.
MiSight® 1 day contact lenses have been shown in a multi-year clinical trial to reduce the average rate of progression of myopia by 59%,1 which means that the relative risk of a myopia-associated pathology can be significantly reduced.4
This convenient, daily disposable contact lens is well-accepted by children and does not affect their daily activities. It is designed to be worn for ten or more hours per day, six or more days per week to get the maximum treatment effect.
We are very excited to offer MiSight® 1 day contact lenses to our age-appropriate patients at Focus on Eyecare. If your child has myopia and you are interested in learning more, please schedule an appointment.
1 Compared to a single vision 1 day lens over a 3 year period. Chamberlain P, et al. A 3-year randomized clinical trial of MiSight® lenses for myopia control. Optom Vis Sci. 2019; 96(8):556-567.

2 Flitcroft DI. The complex interactions of retinal, optical and environmental factors in myopia aetiology. Prog Retin Eye Res. 2012;31:622-60.

3 Vitale S, Sperduto RD, Ferris FL. Increased Prevalence of Myopia in the United States Between 1971-1972 and 1999-2004. Arch Ophthalmol. 2009;127(12):1632–1639. doi:10.1001/archophthalmol.2009.303

4 Tideman JWL, Snabel MCC, Tedja MS, et al. Association of Axial Length With Risk of Uncorrectable Visual Impairment for Europeans With Myopia. JAMA Ophthalmol. 2016;134(12):1355–1363.